Project Runway's Korto Momolu proved that her rocky exit from the show's twentieth season was not the end of her status in the fashion industry, but rather, a boost, as she presented a 22-piece collection at New York Fashion Week on September 9, 2023.
Dionne Warwick: Don't Make Me Over Is Our TV Pick This Week
The show's all-star sat down with me via Zoom before the fashion show to talk about her frustrating time on the show's latest season which aired this summer but was filmed last winter.
Momolu first appeared on the Project Runway franchise in 2008 and has since competed on the show for two additional seasons. Her latest run was on Project Runway: All Stars which featured some of our favorite contestants in the show's history like Momolu, Kara Saun, Laurence Basse, and Bishme Cromartie. Although she's been on the show times before, this time she had no problem being more opinionated. Momolu told me that her growth since first being on the show in 2008 is apparent in the way she accepted (or more controversially not accepted) the three judges, Nina Garcia, Elaine Welteroth, and Brandon Maxwel's critiques.
In previous seasons Momolu would respectfully take the advice and critiques from the judges, as she was still a growing designer. But now nearly two decades later being a professional designer, she knows her brand too well to allow judges to bring her down. This time around she caught the judge's flip-flopping advice. They would be in love with her design one week, and then the next tell her that her designs were "dated" or "safe", saying to me, "I only went back [to the show] because I knew I was stronger. I've already had a career and with so many accolades and things I've done that I knew I could go into this and not take it so personal."
Momolu is well aware that her African-inspired pieces are not the most in-demand in the mainstream fashion industry, but chooses to continue pushing her culture (being from Liberia) forward even if she's alone. "There aren't too many designers that do what I do. It's scary, you know, no one wants to take a chance and not be accepted or maybe not get the masses, but I'm not for the masses. And I think in my career I learned that and it's ok."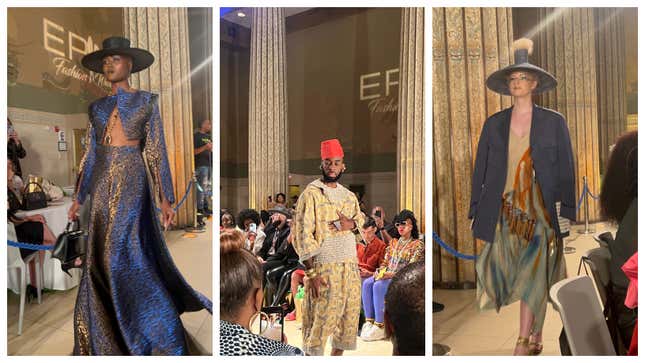 Momulo was eliminated from the competition after a clash with the judges. She created a pair of pants that split the panel as they all had strong feelings about the creation. What irritated Momolu the most was that the judges expressed their dissatisfaction with the outfit, though they asked her for bolder pieces after a stream of "safe weeks" in the competition. The boldly printed and shaped pants were her attempt to stand out.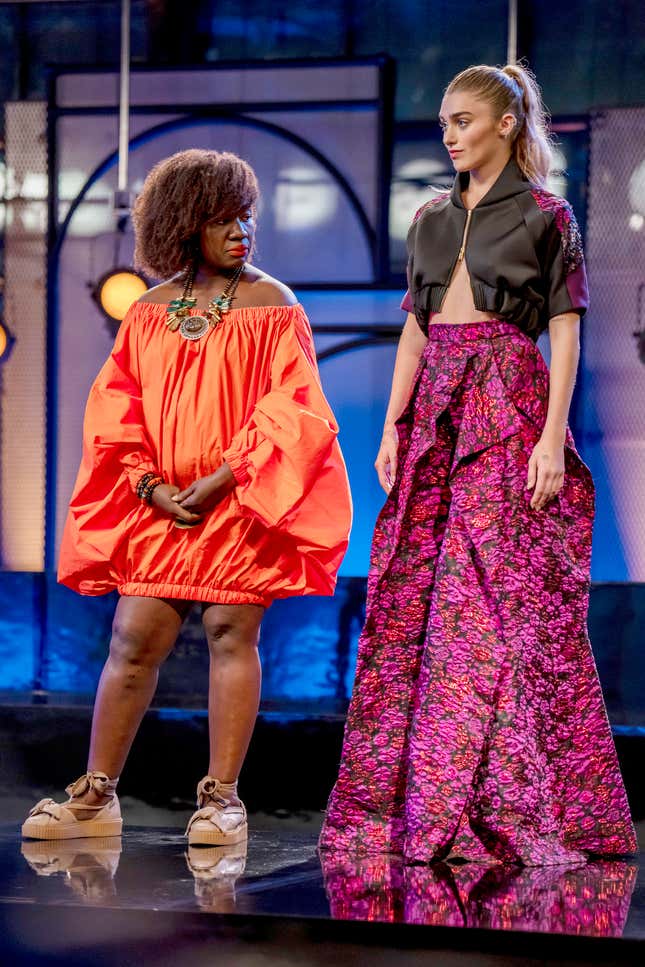 Instead of bowing out quietly after elimination, she decided to push back and confront the judges about their inconsistencies and told the other designers that she wasn't sad to leave because she expected it to happen saying:
"I stood for something and I knew it wasn't gonna be popular. But I had to stand up because every single week I'm getting these responses from the judges that make no sense to me. So, yeah, I think maybe I'm just too real for that platform now. It's my last time going on the show, I'm gonna wish them all the best. But yeah, I think we just need to figure out the judging."
Korto Spills the Tea on Her Clash With the Judges | Project Runway After Show (S20 E11) | Bravo
However, months later after the show wrapped in 2022, she was introduced to Maggie and Hubert Delany, founders of EPN Fashion Week through designer Malan Breton. They asked her to create a solo show to present at New York Fashion Week 2023, a coveted event for any designer to present at. How's that judges for a "dated" designer?