While most of her friends love shopping for shoes, St. Louis area single mom Faranne (Fara) Iman says Lowes is her happy place. Since 2020, she's been using fresh paint and accessories to breathe new life into old furniture.
Her amazing transformations have received millions of views on TikTok, where her @furniturebyfara account has nearly 400,000 followers. And the money she earns on her refurbished pieces has become a serious source of supplemental income for her and her 11-year-old son.
Georgia Nurses Thought It Was Smart To Mock Patients on TikTok
I caught up with Fara Iman to find out how she has literally built a business, turning trash into treasure.
She Got it From Her Grandma
Iman says the inspiration for her business came from her paternal grandmother, who owned a consignment boutique in Chicago.
"Growing up, I was always in her store. It was never something I enjoyed. But I was forced to be there," she laughed.
But after her grandmother's passing in 2020, Fara's family was left to figure out what to do with all of the goods. And since she didn't want to just throw everything away, Iman brought the boutique to her basement.
"That's when I started selling some of the stuff on Facebook Marketplace. I really enjoyed it, and it felt good to be continuing this on for my grandma," she said.
Around the same time, Iman realized she had been bit by the DIY bug and found joy in refurbishing old pieces with her son while at home together during the pandemic. And he more she sold, the more she realized how much extra income she was sitting on.
"One of my neighbors left a pair of chairs on the street that weren't the cutest, but they caught my attention because they were a pretty green color," she said. "I didn't want to take them in the daytime, so I waited until it was dark, snuck out with my son, and loaded them into my SUV," she laughed.
When she got them home, Iman says she cleaned the chairs and posted them for sale on Facebook Marketplace for $250. Within minutes, her inbox was flooded with messages from potential customers, and the chairs sold within an hour. Excited by the experience, she thought she'd try her luck again with a free pre-loved dresser she found on Marketplace. After a fresh coat of paint, Iman was able to resell it on Marketplace for $400.
"Looking back, it wasn't my best work. But it made me realize how much I enjoyed it, so I kept going," she said.
Finding a Following
Iman began posting videos of her work on TikTok, and as she saw her following increase, she realized other people enjoyed her work too.
"I actually had someone come up to me at the Beyonce concert and say, 'You're the girl on TikTok!'" she said.
The self-described introvert calls her new following surreal, but says it feels great to be known for doing something she loves.
"I'm in my sweatpants doing what I truly love to do and showing other people it is possible to make a profit," she said. "I've been able to increase my income, which is such a blessing. It gives me and my son a little more freedom and less stress. And it's a way to keep my grandmother with me. I'm so thankful for her and that store."
What Should You Do if You're Looking to DIY?
If Iman's designs have you thinking about trying the furniture-flipping business for yourself, she says solid wood pieces have the longest lifespan and are the best investment. "That's the number one question people ask. You should note that in your listing because it makes a difference," she said. "There's only so much you can do with laminated pieces. Paint chips and scratches, but when you have solid wood, you have a better chance of increasing the longevity of the designs."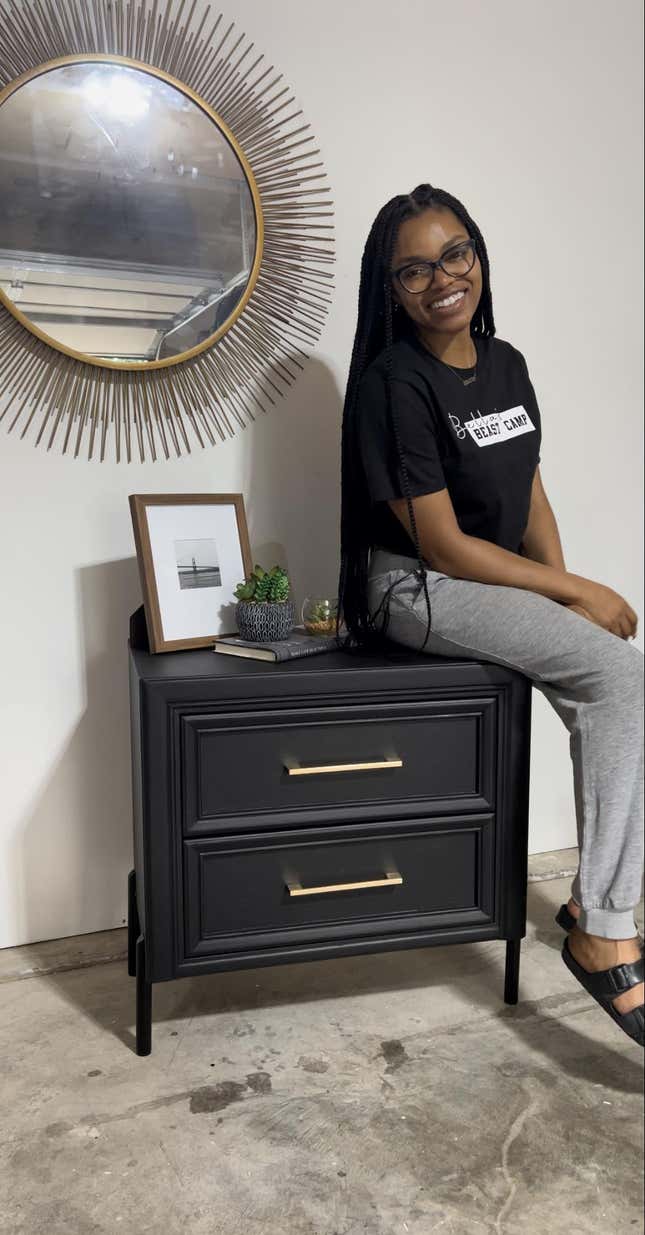 It's also important to look for defects like broken drawers that can be expensive to replace. "Not having good working drawers could be a dealbreaker," she said.
And if you can't look at a piece and immediately come up with a good design, you may want to pass. Otherwise, it may just end up collecting dust.
She adds that you don't have to be an expert handyperson to get started and suggests TikTok and YouTube as great resources for information and design inspiration. "I had no idea what I was doing when I started. But I would study videos and pause them until I got the steps right. It's really about just getting out there and trying. And there are so many cheap and free pieces you can try to see how you feel."
Looking to the future, Iman says she'd love to one day have a store where people can purchase her creations. She says her new endeavor has been so much more than a way to earn extra income, but a source of peace and inspiration. "When I go into Lowe's, I light up."